Tape Extensions
The Largest Variety of Top Quality Tape Extensions at The Hair Clinic Montreal
Top Quality 100% Virgin Indo-European Remy Human Hair Extensions, Dyed Once
Tape Extensions at The Hair Clinic Montreal

The Hair Clinic's EZ Fusion Tape Extensions is a revolutionary new hair extension system in a class of its own.
EZ Fusion tape extensions simply fold in and tape on firmly, and yet they're gentle on your hair.
EZ Fusion tape extensions on extensions stay in for up to 3 months, and are reusable up to 4 times!
The Hair Clinic's EZ Tape Fusion Extensions is perfect for women concerned about more permanent hair extension systems. Tape fusion extensions are one of the safest methods available, so if you've been holding back, or if you have finer hair, you no longer have a reason to deprive yourself of hair extensions thanks to EZ Fusion tape in extensions.
For years, our challenge has been to develop the perfect hair extension system. We wanted to create extensions that would be safe yet faster to apply, more economical but made of the finest quality hair, durable as well as reusable! Does this sound like asking too much? Well, after years of intensive research, The Hair Clinic Labs have developed the Perfect hair extensions and proudly named them EZ Fusion Tape Extensions!
If that sounds too good to be true, just ask our many satisfied customers about their experience with the EZ Tape extensions!
The EZ Fusion tape extensions base is a new strong flexible polymer called the Fusion Matrix, into which hair is injected one hair at a time to provide you with a completely natural-looking experience. EZ Fusion tape hair extensions is pre-folded for fast and easy application, and there are no tools used for the installation, which is surprisingly fast and takes only 30 to 45 minutes.
Safe and hypoallergenic medical-grade tape adhesive holds your hair between two Matrices, creating the illusion that the extensions are an extension of your own hair. With proper care, the tape will hold safely for up to 3 months. Truly the "semi-permanent" hair extensions system easiest on your hair, EZ Fusion tape extensions stay in your hair for up to 3 months and is reusable up to 4 times.
Our tape extensions use gorgeous, naturally wavy hair that will give you 18 – 20 inches of sexy wavy hair, a look that's currently definitely in! And if you want to straighten the hair, you can do so with the usual flattening iron with no problem. You only need one pack of EZ Fusion tape extensions for most average installations, which makes EZ Fusion tape on hair extensions truly affordable, especially considering that it can be re-installed again and again.
This new revolutionary tape in fusion extensions means you don't have to spend hours in the hairdresser's chair as you would have to do with other fusion extension systems. In just half an hour, you can acquire the hair you've always dreamed of!
Your hair will have volume: brighten up your day with a dramatic, thick braid or a luscious ponytail. You hair will have length: no need to wait for 5 years to grow it out, have sexy, back-brushing length right now. And above all, you will have the confidence of a woman with beautiful hair.
Come on over to The Hair Clinic for fast hair length or give us a call and start on your journey to install your human hair extensions today!  For a free, no-obligation consultation, or simply for more information, please feel free to call one of our caring hair extension specialists, or just drop in at our Crescent Street location in downtown Montreal.
Quality of The Hair Clinic Tape Extensions
Hair Quality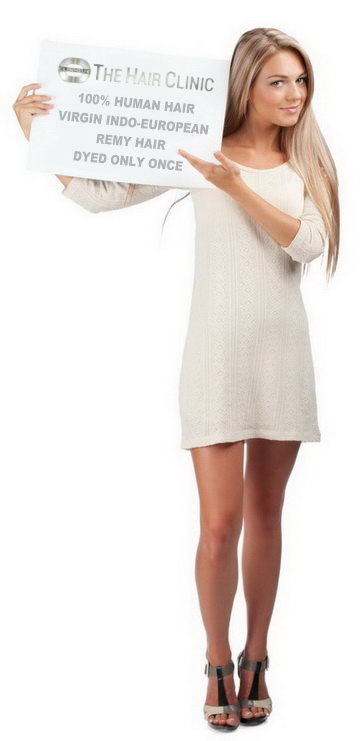 Platinum Grade: 100% Virgin Indo-European Remy Hair, dyed once


Platinum Grade: 100% Virgin Indo-European Remy Hair, dyed once
The Hair Clinic Extensions "Platinum" Grade Hair is simply pure, shiny, silky ultimate quality 100% Virgin Human Indo-European Remy Hair, dyed only once. The Hair Clinic carefully selects Virgin hair from the finest Hindu Temples of Northern India, and color processes it only once.
The Hair Clinic labs have redefined the delicate art of processing 100% Human Virgin Indo-European Remy Hair, without compromising its quality. The Hair Clinic Labs gently lighten the hair with UV Light and dye the hair with harmless heat activated pigments, avoiding harsh ammonia & damaging peroxide, while locking in shiny healthy color.
Why is hair quality important?
Platinum Grade Hair means that you get the absolute best quality 100% Human Hair which stays shiny, silky and flowing as though it were your very own healthy growing hair.
Hair Durability


Platinum Grade hair lasts 12 x Longer than Bronze Grade hair.
Platinum Grade hair lasts 6 x Longer than Silver Grade hair.
Platinum Grade hair lasts 2 x Longer than Gold Grade hair.
Platinum Grade hair may cost you more at first, but it's way less expensive in the long term, because it lasts so much longer. Most importantly, Platinum Grade hair will not damage your hair.
Lower quality hair tangles terribly pulling out your hair at the root each time you brush and breaking your hair causing significant damage. Unlike Bronze Grade hair, The Hair Clinic Extensions' Platinum Grade Hair has absolutely no animal or synthetic content.
The Hair Clinic Extensions : Supreme Platinum Grade quality, pure 100% Human Indo-European Remy Hair, at the Absolute Best Price!
Most other Hair Extensions
Human Hair is like a tree…it has a cuticle on its outside to protect the inside of the hair just like the bark protects the wood of a tree. On the inside, human hair has a cortex, just like the wood of a tree.
Most hair extension brands strip their hair's cuticle with acid exposing the core of the hair or cortex. Their hair is then bleached, dyed, and dipped in silicone at high pressure, for temporary silkiness & shine.The problem is, the silicone lacquer washes out days later, the hair looses it's shine and begins to crack & tangle terribly.
Many companies actually use animal hair from the Yak for inexpensive long hair. Then they take the coarse Yak hair, strip off it's rough cuticle with acid and stretch it with perm lotion for length. Then they bleach & dye the animal hair & lacquer it with silicone.They still sell that to you as 100% Human Hair.Many other companies add 20-30% high temperature resistant synthetic fibers to their extensions, and still have the nerve to call it 100% Human Hair!
After a couple of washings, the silicone washes out and loses its lustre, the cortex or core of the hair swells up & whatever cuticle is left tangles like the devil. That's why other hair extension companies' cheap hair looks like a mop & is good for the garbage a few weeks after you buy it.
If you're still not sure, just ask yourself one simple question: How can anyone sell you hair extensions made of real hair at $100 if they had to buy it from someone who took at least 5 years to grow it & 5 more years to grow it back?  It just doesn't make any sense, doesn't it?
Tape Extensions Installed at The Hair Clinic Montreal

The Hair Clinic Hair Extension Center installs a wide variety of Fusion Hair Extension Systems in-house including Tape Extensions.
Other permanent Fusion Hair Extensions installed at The Hair Clinic include Hot Fusion Extensions, Hairdreams Extensions, Cold Fusion Extensions, Tape Extensions, Loop Extensions & Microlink Extensions. The Hair Clinic also installs hair extensions purchased elsewhere.
You may also choose to simply purchase your tape extensions at The Hair Clinic Hair Extension Shop, and have them installed by your very own stylist.
It's so very important to have your extensions installed by a professional. Permanent fusion installations by a non-professional may damage your hair by pulling it out.
You can bring our ultra high-quality hair extensions to your hairdresser for your installation.
Please ensure that your stylist has the proper training for the specific type of quality fusion extensions to be installed.
Our highly trained professional staff at The Hair Extension Center has over 20 years of expertise in installing all types of fusion hair extensions.
You can rest assured that your extensions will be installed in a manner that will give you beautiful, silky hair, with no damage to your hair, no pain, and no adverse effects whatsoever.
Installing Tape Extensions is a delicate art, and the importance of an excellent installation cannot be over-emphasized.
At The Hair Clinic Montreal, we go to great lengths to make your hair dreams come true!

Hot hair is so cool, but so's a $50 Discount Coupon on your first tape extensions installation at The Hair Extension Center of The Hair Clinic on Crescent Street. At The Hair Clinic, we really can give you the hair of your wildest dreams!
Call 514.848.6185 for your free, absolutely no obligation, laid back hair consultation, & see for yourself what hair perfection looks like!