Non Surgical Hair Transplant
Non Surgical Hair Transplant at The Hair Clinic Montreal
Non Surgical Hair Transplant
Non Surgical Hair Transplant at The Hair Clinic Montreal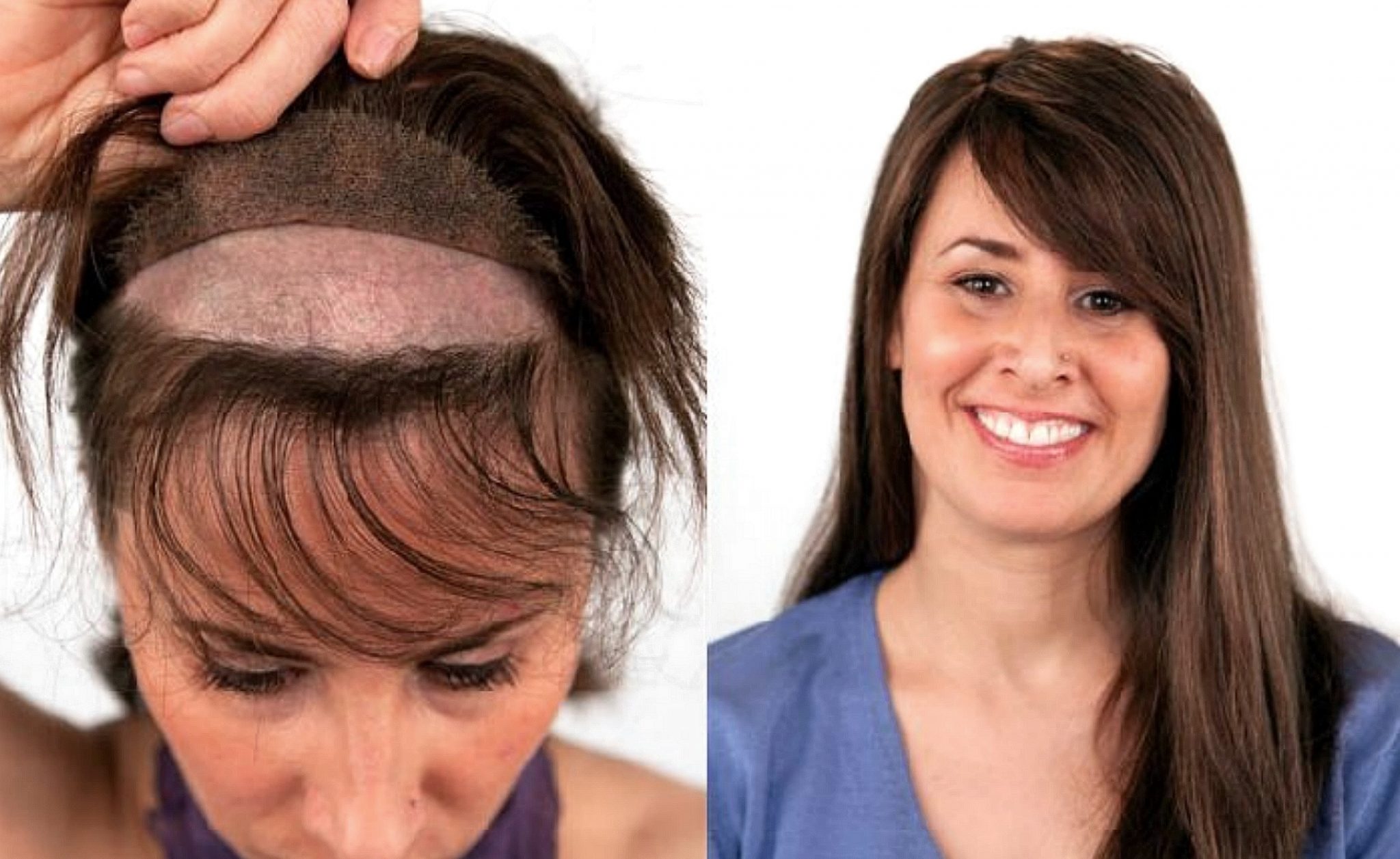 The Hair Clinic's Non Surgical Hair Transplant is a new and revolutionary system of hair integration to your scalp.  The Non Surgical Graft is a type of Follicular Contact Lens which integrates hair by fusion into your scalp defying the closest scrutiny.
State of the art technologies implant Human Hair Non Surgically, into "Hair Follicles" or individual follicular units created on a strong ultra-porous, flexible micro-thin soft contact lens-like membrane. The non surgical hair transplant membrane then replaces the balding area of your scalp, duplicating the appearance of hair growth from your very own follicles.
To achieve a perfect fit for your non surgical follicular unit transplant, a precision mold of the balding area of your scalp is carefully & painstakingly made to perfectly replicate your scalp.
This mold is then reproduced as a micro-thin flexible polymer membrane, or Soft Contact Lens for the Scalp, for a fit as comfortable and as undetectable as a Contact Lens on the human eye.
The Non Surgical follicular hair transplantation is then used to correct the hair deficiency on your own scalp. The micro-thin Non Surgical Graft "Scalp Contact Lens" is transplanted with 100% human hair into "Micro Hair Follicles" using our patented follicular Hair Infusion Transplant System.
Your hair is perfectly matched for color, texture, and wave, and is inserted strand by strand via non-surgical micro-transplant into follicular units on the membrane of the scalp contact lens.  The non surgical follicular unit hair transplantation perfectly replicates the way in which hair grows from a follicle on your own scalp.
Your "Second Scalp" is then fused to the balding area of your scalp Non-Surgically becoming virtually indistinguishable from the rest of your hair. Once fused to your scalp by cutting edge Non-Surgical methods of utmost comfort, the Non-Surgical Grafts' micro-porous new "skin" is fully watertight, permitting swimming, showering as well as extreme aquatic sports.
The hair on the Non Surgical Hair Transplant is cut utilizing new geometric techniques which assure perfect blending with your own hair.  The hair style of your choice is then achieved by blow-drying, ironing, air drying, gel or paste. The micro-porous soft Contact Lens membrane of the Non-Surgical Grafting is of utmost comfort, to the point of becoming an integral part of your own scalp.
Natural appearance, comfort, and security make your Second Scalp virtual reality hair replacement undetectable, even to a trained professional. In other words, the Non Surgical hair transplant is the best hair replacement system for virtually growing your own hair back!
The Non Surgical Hair Transplant at The Hair Clinic Montreal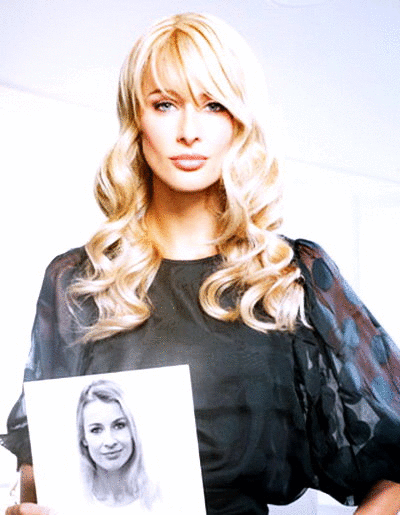 We've all come across inspirational sayings such as "it's what's inside that counts", and that's certainly an encouraging thought, but the truth is that the way we look affects everything – how assertive we feel inside, the way we act, even perhaps how happy we are in general.
And that's where ultra natural Non Surgical Hair Transplants from the Hair Clinic's Hair Replacement Center come in.
Non Surgical Hair Transplants replaces a thinning or balding area of the scalp, integrating seamlessly with your own hair.
The Non Surgical Hair Transplant is a little boost to your confidence and a much-needed helper when you want a full head of voluminous and beautiful hair without undergoing complicated and expensive treatments or surgery which may or may not be effective.
If you've ever felt somewhat embarrassed to have others see through your hair, or even stare at the top of your head, if you go through tons of hair spray & masking powders  in an attempt to camouflage your loss of hair, the Hair Clinic's Non Surgical Hair Transplant is just what you need.
Both human hair Non Surgical Hair Transplants or synthetic Non Surgical Hair Transplants are essential for today's modern lifestyles when we don't necessarily have a lot of time to spend on our hair.
When the Non Surgical Hair Transplant is perfectly matched to your hair with the help of our talented Hair Replacement Specialists, it's totally undetectable: people will just assume that you got a new hairstylist that makes your hair look so great.
The Hair Clinic human hair Non Surgical Hair Transplant is liberating. No more worries about bad hair days, no more loss of confidence that comes with aging, thinning hair.
There are virtually an infinite number of choices in terms of hairpieces, and it's best to seek out the help of the professionals at The Hair Clinic Montreal Hair Replacement Center.
The most important part of your journey towards a hair piece is getting in touch with a specialist you can really communicate with. Don't make the mistake of thinking that ordering online is the easiest solution because you're embarrassed to make your purchase in person. The fact of the matter is, there are so many variables in terms of a hair replacement that will really match your hair – the construction, the hair quality, the color, and sizing – that it is truly difficult to find something perfect for you, even after having gone through hours upon hours of research.
Matching the ultra high tech Non Surgical Hair Transplant to your hair is truly a most professional and onerous task that can only be accomplished by the highly experienced professionals at The Hair Clinic Montreal,  because of the multitude of parameters involved in properly matching any hairpiece to your own hair.

Have you ever envied the actresses, models, and celebrities in fashion journals for their thick, lustrous hair? In most (if not all) cases, their beautiful mane of hair is not the result of a new miraculous shampoo, but the direct result of volumizer hair extensions and volumising hair pieces.
Whether you have bald spots or a thinning hair on top or at the crown, our human hair tops or synthetic hair volume enhancer hairpieces will give you back the confidence that comes with hair that looks great all the time.
Hair in a hair piece has to be matched for hair color, texture, density, highlights and lowlights, hair type, hair quality, as well as a percentage of gray and hair distribution and direction of implantation. A hair piece has to be properly fitted, adjusted and well secured onto your existing hair or even to your scalp. The haircut is of utmost importance in order to ensure proper integration with your own hair, avoiding tell-tale lines of distinction.
Other special considerations that you may not even be aware of include, the type of base suitable for your lifestyle. The method of attachment. The shape and size of the piece especially at the most crucial front hairline.
Finally the type of hair insertion and knotting. Improper hair knotting or implantation direction of the hair can leave you struggling with the hair piece to blend the hair with your own, leaving you struggling to achieve your desired hairstyle.
Unfortunately, we sometimes fail to realize that we can easily become the subject of ridicule, simply by wearing a bad hairpiece or a so-called "rug". Quality control is so important, as many cheap hair pieces are now flooding the market.
The Hair Clinic has done all the research for you and has studied long hours and mastered the art & science of hair replacement for many, many years. The Hair Clinic quality assurance guarantees you that your hairpiece will look totally natural and be as easy to style as your very own growing hair!
The Non Surgical Grafting Center of The Montreal Hair Replacement Clinic is open from Monday to Friday 10AM to 6PM Eastern. For more information, or to schedule your free consultation, please contact us at 514.848.6185, or email your questions at info@thehairclinic.com
We look forward to helping you get your hair back!
At The Hair Clinic Montreal, we go to great lengths to make your hair dreams come true!
Hot hair is so cool, but so's a $50 Discount Coupon on your first human hair Non Surgical Hair Transplant for women at The Hairpiece Center of The Hair Clinic on Crescent Street.  We virtually give you back your hair !
Call 514.848.6185 for your free, absolutely no obligation, laid back hair consultation, & see for yourself what hair perfection looks like!